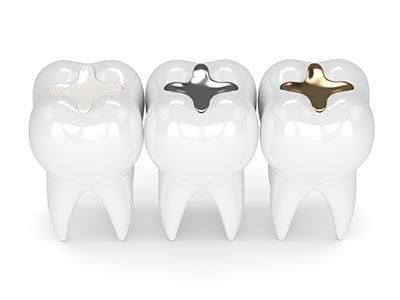 Before Tooth-Colored Fillings became popular in dental practices across the country, having a cavity that needed to be filled meant revealing your secret every time you smiled. Now, with tooth-colored fillings from Santa Teresa Family Dental, your cavities stay between you and us. If you have a cavity that needs to be filled, or if you want to replace old metal fillings, San Jose Dentist Dr. Madaan would be happy to help with personal service and affordable white filling options.
Disadvantages of Metal Fillings
Metal fillings are a very obvious dental restoration. Many of our patients are self-conscious about having "metal mouth," so this is often one of the first items that is addressed when we design smile makeovers. Metal fillings are also harder than natural teeth, and can cause cracks in enamel due to chewing stresses and temperature changes.
Why Tooth Colored Fillings Are Best
At Santa Teresa Family Dental, we prefer tooth-colored fillings for a variety of reasons. Thanks to advanced technology, white fillings made of composite materials can be used to fill small to medium-sized cavities, and are customized to your exact specifications. Tooth-colored fillings are also color-matched to your tooth shade, so they blend in wonderfully with natural enamel.
From a practical standpoint, white fillings are great for adding strength to a tooth. The bonding process allows the composite material to form a tight union with enamel, thereby improving a tooth's durability and integrity. White fillings are also unaffected by temperature changes, so there is no danger of fracture. Finally, we prefer white fillings because they are more conservative, as they require less removal of enamel than metal fillings.
If you have areas of tooth decay that are posing a threat to your smile, find out how tooth-colored fillings from San JoseCosmetic Dentist Dr. Madaan can help protect your teeth. Learn more about fillings and other dental services when you visit Santa Teresa Family Dental for a dental consultation. Please give us a call at (408) 717-4589, or send us an e-mail to schedule your visit today.