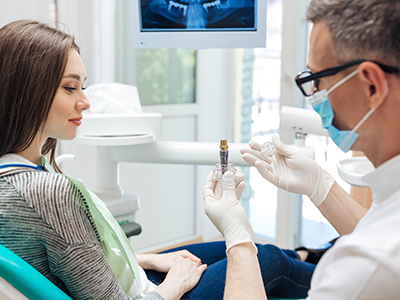 Missing teeth are perhaps the most obvious and challenging obstacle to a beautiful smile. If you have one or more missing teeth, San Jose Dentist Dr. Madaan can show you how dental implants can solve your problem permanently. For tooth replacement, there is simply no solution that is more durable or more lifelike than a custom-designed dental implant.
If you have dealt with a missing tooth for years, you may be wondering why it is so important to fill that space now. When considering a tooth replacement solution, keep in mind that dental implants are the only comprehensive solution, since they address both the visible missing tooth, and the missing tooth root under the gum. The presence of a replacement tooth root not only anchors the new tooth in place, but it also protects against bone loss, since it is seated into the jaw bone. The sooner you replace a missing tooth, the less likely your natural teeth are to shift out of place, creating an uncomfortable and unhealthy bite.
Dental implants are a long-term investment. Unlike other cosmetic smile treatments that may need to be redone after several years, dental implants can last a lifetime if they are well cared for.
Imagine having an implant appointment today, and rather than feeling nervous or apprehensive, feeling a sense of calmness and relaxation instead.
San Jose Dentist Dr. Madaan have many years of training and real-world experience with dental implants. They will take the time to discuss their credentials, explain the implant process, and show you before and after photos of patients who have improved their smiles with this amazing implant technology. They will also answer all of your questions about implants, and discuss the various types of implants to help you choose the one that fits your needs. Because it is important that you are aware of all possible treatments, Dentist Dr. Madaan will also discuss tooth replacement alternatives such as partial dentures, full dentures, and dental bridges.
Learn more about how dental implants can improve your smile as well as your dental health. The dental implant team at Santa Teresa Family Dental knows how to guide you through the dental implant procedure with ease. Please feel free to contact us today for more details, and to schedule your complimentary dental implant consultation.
Learn more about Dental Implants and Cosmetic Dental Services when you visit Santa Teresa Family Dental. Please give San Jose Dentist Dr. Madaan a call at (408) 717-4589 or send us an email to schedule your visit today.