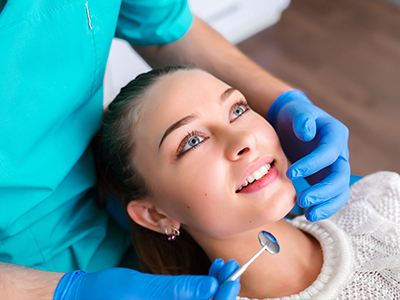 Periodontal disease is characterized by a presence of disease-causing bacteria, inflammation of the gums, and loss of bone around the teeth. The goal of treating gum disease is preventing the progression of periodontal disease and eliminating the inflammation in the mouth. Treating the periodontal disease will not only reduce the risk of gum disease and bone loss, but also reduce the chances of developing other serious illnesses that may be related to the inflammation in your mouth.
Periodontitis is a collection of inflammatory diseases affecting the tissues that surround and support the teeth. Periodontitis involves progressive loss of the bone around teeth which may lead to loosening and eventual loss of teeth if untreated. New scientific information is increasingly finding an "oral-systemic link," showing that our oral health plays a role in our total well-being.
Although there is no cure, periodontitis is treatable with a proper program of dental hygiene.
At Santa Teresa Family Dental, we've always seen the mouth as the gateway to total health. Given the recent scientific studies linking periodontal disease directly to life-threatening conditions, our approach and our services help you understand the warning signs and take action to help bring your body into balance.
You'll hear us talk with urgency about periodontal health. We'll chart the health of your gums with every hygiene visit, create a customized oral hygiene program for you, and give you extra coaching about what you can do at home to address this disease.
San Jose Dentist Dr. Madaan offer the following Periodontal Dental Services:
Laser Treatments
Scaling & Root Planing
Ultrasonic Cleaning
Pocket Reduction
Soft Tissue Grafts
Crown Lengthening
Bone Regeneration
Perio Maintenance
Santa Teresa Family Dental is the dental practice to trust for the best care. Learn more about Periodontal Services when you visit us. Please give Dr. Madaan a call (408) 717-4589 or send us an email to schedule your visit today.